Peter Diamandis: Drones Overhead, Seeing Everything, Always: Inside Google And
Peter Diamandis: Drones Overhead, Seeing Everything, Always: Inside Google And Facebook's Latest Acquisitions 2014-04-24
Imagine a fleet of drones, overhead, out of sight, tens of thousands of feet in the sky. Imagine those drones being powered by sunlight -- effectively aerial satellites that are orbiting constantly, never having to touch down for fuel. Now imagine thousands of them, perhaps tens of thousands of them, with cameras and radio repeaters on board.
Such a fleet could image everything, all the time, everywhere, at high-resolution. They could also provide low-cost communications -- effectively cellphone towers 60,000 feet tall.
This vision of the future, is why both Google and Facebook are fighting to buy the technology.
Last week, Google (outbid Facebook and) purchased Titan Aerospace -- a drone company -- for $60 million. Titan makes solar-powered drones, which are capable of beaming Internet to parts of the world that are not yet connected. This purchase was announced on the heels of Facebook's acquisition of competing drone company Ascenta for $20 million.
As we've discussed at Abundance 360, there are two key trends emerging:
(1) Global Connectivity: We are heading from a world of 2 billion connected to the internet (in 2010) to at least 5 billion by 2020. But this drone technology, perhaps in combination with Google's stratospheric balloons (called Project Loon) has the potential to take it to 7 billion by 2020.
This is perhaps one reason why, in April 2013, Google Executive Chairman Eric Schmidt made the surprising pronouncement that, "by the end of the decade (2020), everyone on Earth will be connected to the Internet." This addition of another 3 billion to 5 billion new consumers on Earth is HUGE. If these people are not your customers, then they are your customer's customers. They represent tens of trillions of dollars of new economic buying power entering the global economy. Don't ignore this. This is a huge opportunity.
(2) Perfect Knowledge -- Know Anything, Anytime, Anywhere: Also at Abundance 360, I described where we're heading with the explosion of a trillion sensors, drones, private orbital constellations, Google Glass, etc... basically everything, everywhere will be constantly imaged. How does the ability to follow your competition's supply chain via video change your landscape? How would you data mine all of the available images?
Where else can autonomous high- and low-altitude drones cause disruption beside with Internet access and global imaging? I discuss these answers with the members of the A360 community throughout the year and in person every January at the Abundance 360 Summit.
Hope this insight about the future is useful to you.
Amy L. Freeman: The Moment Lost In A Smile Withheld
Amy L. Freeman: The Moment Lost In A Smile Withheld 2014-04-24
You know that horrible, awkward feeling...when you go somewhere, public or private, and feel like you are underdressed, overdressed or just stand out like a sore thumb? Maybe you've escaped that particular misery, but I've felt it and can assure you it is uncomfortable. The outsider's perception as to whether you actually are inappropriately dressed doesn't matter; it's just how you feel, and it's very hard to shake.
I was thinking about that feeling, the other day, when I was half-listening to an exchange at Bethesda Cares' Drop-In Center. A slim, African-American woman I've seen once or twice before was standing at our coffee station, looking into a small container. She then approached our front-desk volunteer, and asked her if there was any sugar left; she wanted some for her coffee. Flustered, the volunteer jumped up.
"Oh! I'm so sorry, I didn't realize we'd run out, let me get you some!" The volunteer went to the closet, refilled the container from a 10-pound bag, put a serving spoon back in the container and set it on the table in front of the woman. "Here you go!" she smiled.
But the woman didn't reach for the sugar right away. She just stood there, staring at the little container. Then she looked up at the volunteer, and said, "Thank you. Thank you for treating me with dignity."
The volunteer's smile got even brighter. "Why, heavens! Of course! You deserve to be treated with dignity, we all do!"
I watched the woman out of the corner of my eye; she said something, but I couldn't make out her reply.
The thing is, reader, that this woman was dressed in clean, matching clothing, totally appropriate for both the season and for walking around downtown Bethesda. She carried a large tote bag, but nothing of the sort that I haven't lugged around myself on occasion.
I don't know this woman's name, much less her current situation. But if she was at our Drop-In Center, especially if she came in more than once, odds are high that she is at least temporarily without a home.
To me, nothing about her appearance, neither her clothing, nor her posture nor her general comportment gave any external clue as to her predicament. Yet there she stood, bearing the invisible weight of humiliations so deep that she felt grateful for a kind word and a few grains of sugar. I wondered what has happened to her, what people have said (or not said) to or near her, words or glances that have torn at her soul so deeply that she expects nothing but scorn.
As I sat trying to draw a lesson from this moment, the Bible flashed through my mind, "Judge not, lest ye be judged." True, although in this case I'd probably say, "Judge not, because don't think for a minute that you know what burdens anyone else is carrying."
But that wasn't all that I was I was feeling. I was thinking more about the people I've walked by whose burdens were visible, people around whom I have stepped knowing full well they needed some help, and I did not offer them even the dignity of a smile. I finally found the Biblical quotation that hit the mark: 'Truly, I say to you, as you did not do it to one of the least of these, you did not do it to me.'
Geoffrey R. Stone: The National Review, Justice Sonia Sotomayor, And Affirmati
Geoffrey R. Stone: The National Review, Justice Sonia Sotomayor, And Affirmative Action 2014-04-24
In a stunningly insulting editorial, the National Review attacked Supreme Court Justice Sonia Sotomayor for her opinion dissenting from the Supreme Court's recent decision upholding the constitutionality of a state's ban on affirmative action. The National Review decried Sotomayor's opinion as "Orwellian," as "legally illiterate and logically indefensible," and as "a case study in . . . moral and legal corrosion." It accused her of "elevating ethnic-identity politics over the law" and of being "a naked and bare-knuckled political activist with barely even a pretense of attending to the law," and it mocked her as a "self-described 'wise Latina.'"
Of course, the National Review has every right under the First Amendment to say all of these things, and I would defend to the death, in Voltaire's words, its right to say them. But that does not make them any less offensive -- or ignorant of the law.
What was the issue in Schuette v. Coalition to Defend Affirmative Action? In 2003, the Supreme Court, in Grutter v. Bollinger, held that the University of Michigan could constitutionally take race into account in its admissions policies in order to increase the diversity of its student body if it did so in a careful and precise manner. Thereafter, the state of Michigan enacted Proposal 2, which prohibited all public educational institutions in the state from using preferences based on race, gender, or national origin in their admissions policies.
The question in Schuette was whether Proposal 2 violated the Equal Protection Clause of the United States Constitution. The argument in defense of Proposal 2 was straightforward: Nothing in the Constitution requires a state to use affirmative action; therefore, the University of Michigan could constitutionally choose not to use affirmative action; therefore, the state of Michigan could constitutionally prohibit the University of Michigan from using affirmative action. That seems simple enough.
But in a series of decisions in the 1960s, 1970s, and 1980s, the Supreme Court held that when a state places special barriers in the way of racial minorities receiving equal treatment, it violates the Equal Protection Clause. To give a simple example, suppose a city enacts a law prohibiting private discrimination on the basis of race, religion, gender, or national origin. Now, suppose the state enacts a law prohibiting any city from prohibiting private discrimination on the basis of race. In effect, the state law allows cities to forbid private discrimination on the basis of religion, gender, and national origin, but not on the basis of race.
Although neither the city nor the state is under any constitutional obligation to have laws prohibiting private discrimination on the basis of race, the Supreme Court in those earlier decisions held that, by making it more difficult for racial minorities to obtain legal protection against private discrimination than other groups in society, the state law violated the Equal Protection Clause. That is, although Jews, Italian-Americans, and women had the freedom to persuade cities to pass ordinances protecting them against discrimination, African-Americans were denied the same freedom. For African-Americans to get a city to pass such an ordinance, they would first have to persuade the state itself to change its law. The Court in these earlier decisions held that this inequality violated the American Constitution.
Michigan's Proposal 2 created a similar situation. Before Proposal 2 was enacted, the University of Michigan was free to adopt affirmative actions programs in the admissions process for African-Americans, football players, violinists, the children of alumni, in-state residents, residents of rural communities, history majors, etc. After Proposal 2, the University of Michigan could adopt affirmative action programs for football players, violinists, the children of alumni, in-state residents, residents of rural communities, and history majors, but not for African-Americans.
Based on the earlier precedents, a pretty good case could be made for the conclusion that the issue in Schuette is properly controlled by the earlier decisions. That was essentially Justice Sotomayor's argument. Moreover, in a concurring opinion, Justices Antonin Scalia and Clarence Thomas agreed that the prior decisions controlled, which is why they argued that, in order to uphold the Michigan law, the earlier precedents should be overruled. In his plurality opinion, Justice Kennedy tried -- not very convincingly -- to distinguish the earlier decisions.
In short, Justice Sotomayor's opinion was in no way radical. To the contrary, it was a fairly straightforward application of the Court's traditional approach to this sort of issue. For the National Review to characterize it as "Orwellian," as "legally illiterate," as "logically indefensible," as "a case study in . . . moral and legal corrosion," and as elevating "ethnic-identity politics over the law,"is nothing short of ignorant. In fact, the specific legal issue posed in these cases is a difficult one. It has vexed the members of the Supreme Court for more than four decades now, and generations of justices have quite reasonably disagreed about how best to think about this problem. The only way the National Review can characterize this issue as simple and straightforward is by blinding itself to the legitimate complexites of a genuinely complicated legal question and simply assuming that it own political preferences must self-evidently be what the Constitution commands.
Brian Rooney: The Absurdity Of Everest
Brian Rooney: The Absurdity Of Everest 2014-04-24
Climbing Mt. Everest is no longer a noble pursuit and the people who do it are not heroes. Everest has become a magnet not for the best among us expanding boundaries of the known world, but for the worst, the people with time and money to seek a personal challenge and examine their inner space at the risk of other peoples' lives. They are up there to put a checkmark on their bucket list. May on Everest, Christmas in Thailand.
It's been 90 years since the British climber George Mallory died trying to conquer Everest, "Because it's there." In his time, Mallory's quest was like putting a man on the moon. Back then you could only look up at a mountain like Everest. Now anyone can buy a plane ticket and look down.
Since Mallory, about 300 climbers have followed to their deaths. Today's climbers step over bodies left where they dropped, frozen in ice and their own ambition. The causes of death: falls, heart attacks, altitude sickness, avalanche, stroke, cerebral edema, and even a snowboarding accident. Marco Siffredi of France died trying to snowboard down Everest after making it to the top. No one is listed as having died of foolishness, although many should be.
Last Friday a chunk of ice the size of a building dropped into the Khumbu Icefall, a feature with pieces of ice like cargo containers standing on end waiting to tip. The resulting avalanche hit 25 climbers, killing 16 Sherpa climbing assistants without whom few white men would reach the top. It's the worst disaster in the history of the mountain.
Western guides have suspected for years that global warming is loosening the Khumbu, and still they sent in the Sherpas first to face the hardest work and danger. Those Sherpas killed in the avalanche were setting ropes and ladders to make it easy for the paying customers to follow. It's the mountaineering equivalent of "Tonto, go to town." Tonto always took a beating. For a few thousand dollars on an expedition, the Sherpas risk their lives and often lose them because it's one of the few good ways to make money in the mountains where they live.
Climbing Everest is deadly, but still safe enough for thousands of people to have made it to the top. They pay anywhere up to $90,000 for the tour. With no meaningful records left to set, now they try to be the youngest, the oldest, or the first from their country. Two years ago a man hauled his bicycle up the mountain because he takes it everywhere he goes.
The expeditions carry computers and communications gear so they can report the glory and travails of their climb. They don't talk much about the intra-expedition rivalries and "summit fever" in which partners, and sometimes guides, abandon fellow climbers to get to the top.
They don't dwell on environmental trashing of Everest. Sixty years of expeditions have left 50 tons of trash on the mountain; empty oxygen tanks, shredded tents, food containers, and assorted human detritus imported to one of the world's most remote and beautiful places.
It all happens on the backs of Sherpas. Edmund Hillary is credited with being the first man to the top in 1953, but the Sherpa Tenzing Norgay was right there with him. Following last week's accident the Sherpas are making demands. They want a $100,000 death benefit paid to their families if they die, and the same amount for a career-ending injury. The Nepalese government, which collects millions of dollars a year in climbing fees, has offered $400 for funeral costs. It's less than the cost of the boots they died in.
The Sherpas took a vote to go home in honor of their dead colleagues, which could end this year's season. NBC and Discovery cancelled a live special they intended to do in which a climber was going to fly off the summit in a wing suit. Several of the Sherpas who died in that avalanche were part of that effort. It seems terribly wrong that men should die for an athletic stunt to be watched on television thousands of miles away by Americans on their sofa.
On the website for Peak Freaks, a guide service that offers the option of a "personal sherpa," the guide Tim Rippel wrote, "We are not here to kill people." Maybe they should all consider the possibility that, yeah, really, they are.
Two years ago a 33-year-old Canadian woman died of altitude sickness after refusing to turn back at the danger hour of 2 p.m. Her last words were "save me," but it was too late to save her from her own judgment.
The list of dead gets longer every year, as do the lines of climbers, without any of them adding to the sum total of human knowledge, wisdom or dignity. This week there are about 400 climbers on Everest, and an equal number of Sherpas. On summit days, sometimes hundreds of climbers are lined up to use the ropes and ladders laid by the Sherpas. George Mallory died trying to go where no man had been. Today's Everest adventurers are just tourists following the crowd.
Kate C. Prickett: State Firearm Laws Could Reduce Gun-related Injuries In Chil
Kate C. Prickett: State Firearm Laws Could Reduce Gun-related Injuries In Children 2014-04-24
Regardless of where one comes down on the debates about gun control, everyone seems to agree that keeping firearms out of the hands of unattended children is a good idea. After all, firearm-related injuries remain one of the leading causes of death among U.S. children, with close to 3,500 killed a year. The small and seemingly simple step of securing firearms in a locked cabinet makes a huge difference in protecting young children. By our estimates, approximately 5 percent of preschool age children live in homes in which their parents reported that they owned guns but did not store them in a secure and locked place. To address this problem, many states have implemented Child Access Prevention (CAP) laws. This collection of legislative approaches range from suggestive guidelines for storage behaviors in families with minors to more stringent requirements and harsher penalties for noncompliance, holding gun owners criminally liable regardless of whether someone gets hurt.
Unfortunately, little research exists to test whether these laws are actually associated with family firearm safety behaviors. A primary goal of our study, just published in the American Journal of Public Health, was to understand how gun storage behavior in families with young children varied across states with different CAP laws, controlling for a wide range of parent, family, and state-level factors that are often associated with gun ownership, generally, and gun safety behaviors, specifically. We found that the efficacy of state CAP laws seemed to rely on the general firearm legislative climate in each state. CAP laws were only associated with decreased likelihood of unsafe gun storage behaviors in states that had strong firearm legislation overall. Although we cannot infer causation from these findings, we hypothesize that parents may not be aware of the specific laws in their states but are more generally aware that their state has many laws that regulate gun use, prompting them to be more careful about the purchase and storage of firearms. We also think that having stronger general state laws could potentially affect which families own firearms -- parents who own guns in a state without any regulation may constitute a very different pool of people than those who own firearms in a state in which they have to jump through hoops, such as a background check, to get them.
Overall, these findings highlight that a significant proportion of children in the U.S. are living in homes where they can potentially access firearms, and these estimates are likely conservative due to underreporting arising from not wanting to share private or potentially embarrassing information or from parents' loose interpretation of what constitutes a 'safe' or 'locked' gun. Moreover, even laws that do not directly target the types of behaviors that result in young children accidentally accessing firearms could have potential spillover effects for the safety of children.
This is why comprehensive firearm legislation -- even legislation that doesn't seem to necessarily solve the immediate public health issue that politicians are responding to (such as a school massacre) -- could potentially be important.
Take, for example, proposed federal legislation on background checks that would have closed loopholes in firearm purchases at gun shows. Recent polls show broad bipartisan public support for this type of legislation, and, although it likely won't stop school massacres, it has potential spillover effects that may affect minors' access to firearms. Parents who do not keep their guns safe at home probably will not show up in a database of people with a diagnosed serious mental health illness, but having a mandated background check or waiting several days to return to a store to purchase a gun may create enough friction that could stop some parents who may be less able or inclined to take heed of their pediatrician's recommendations or abide by their state's CAP laws.
Ms. Kate C. Prickett is a PhD candidate with the Population Research Center and the Department of Sociology at the University of Texas at Austin.
Dr. Alexa Martin-Storey is an assistant professor with the Département de Psychoéducation, Université de Sherbrooke, Quebec, Canada.
Michael Roth: Supreme Court Decision Undermines Education And Opportunity
Michael Roth: Supreme Court Decision Undermines Education And Opportunity 2014-04-24
Ever since the founding of this country, we have recognized that education is indispensable to our vision of a democratic society. All men may be created equal in the abstract, but education provides people concrete opportunities to overcome real circumstances of poverty or oppression. Thomas Jefferson argued that the talented poor should be educated at public expense so that inherited wealth would not doom us to rule by an "unnatural aristocracy" of wealth. As I describe in Beyond the University: Why Liberal Education Matters, a few years after Jefferson's death, African American shopkeeper David Walker penned a blistering manifesto pointing out that "the bare name of educating the coloured people, scares our cruel oppressors almost to death." Some years later the young slave Frederick Douglass received a "new and special revelation," namely, that learning "unfits" a person for being a slave.
Promoting access to a high-quality education has been key to turning the American rhetoric of equality into genuine opportunity. And throughout our history elites threatened by equality, or just by social mobility, have often joined together to block access for groups striving to improve their prospects in life. In the 20th century, policies were enacted to keep immigrants out of universities and to limit the number of Jews who enrolled. And in 2006, the citizens of Michigan passed an amendment to the state constitution banning consideration of race at their universities, undermining opportunity for minorities in the state.
This week the Supreme Court voted to uphold the rights of these citizens to forbid race-sensitive admissions policies. Previous Court decisions had allowed schools to consider race among other factors, but this judgment affirms the voters' right to overrule university policies. Under the guise of democracy and supporting the political process, the Court has allowed States to close off opportunities for those who would benefit from them the most.
As Justice Sotomayor argued in her dissent, in Michigan you can now lobby those who control admissions to pay more attention to how many alumni relatives applicants have, and you can urge the deans to recognize how much money these relatives might give the school after applicants graduate. But you can no longer successfully advocate making the universities in Michigan more racially diverse -- even if the governing boards recognized that a more diverse campus benefits everyone on campus.
Residential colleges and universities have for many years emphasized creating a diverse student body because we believe this results in a deeper educational experience. In the late 1960s many schools steered away from cultivated homogeneity and toward creating a campus community in which people can learn from their differences while forming new modes of commonality. This had nothing to do with what would later be called political correctness or even identity politics. It had to do with preparing students to become lifelong learners who could navigate in and contribute to a heterogeneous world after graduation.
At residential universities, homogeneity in the student body undermines our mission of helping students develop personal autonomy within a dynamic community. That's why we are eager to welcome students from various parts of the United States and the rest of the world to our campuses. That's why we ask our donors to support robust financial aid programs so as to ensure that our students come from a variety of economic backgrounds. A "dynamic community" is one in which members have to navigate difference -- and racial and ethnic differences are certainly parts of the mix. All the students we admit have intellectual capacity, but we also want them to have different sorts of capacities. Their interests, modes of learning, and perspectives on the world should be sufficiently different from one another so as to promote active learning in and outside the classroom.
Creating a racially diverse campus is in the interest of all students, and it offers those from racial minorities opportunities that have historically been denied them. That's why governing boards and admissions deans have crafted policies to find students from under-represented groups for whom a strong education will have a transformative, even liberating effect. Education, as Douglass said, makes you unfit for slavery.
The federal government has often had to step in to ensure that states provide access to political and economic opportunity. As Justice Sotomayor put it in her dissent, in the past the court ruled that the equal protection clause of the Constitution, "guarantees that the majority may not win by stacking the political process against minority groups permanently, forcing the minority alone to surmount unique obstacles in pursuit of its goals -- here, educational diversity that cannot reasonably be accomplished through race-neutral measures."
But this week's ruling allows states to forbid university officials from considering race when determining access to higher education. When seen in the context of recent decisions undermining voting rights, it's hard not to think that we are witnessing elites, "scared almost to death," holding onto their privileges by limiting access to social mobility and economic opportunity.
Jefferson's "unnatural aristocracy" is working hard to increase its advantages, but at universities we must recognize our responsibility to provide real opportunity to those groups who historically have been most marginalized. University admissions programs are not the place to promote partisan visions of social justice, but they are the place to produce the most dynamic and profound learning environments.
It would be an enormous step backward to force our admissions offices to retreat to a homogeneity that stifles creative, broad-based education. We must find ways to protect the diversity (racial, economic, cultural) that has become absolutely crucial to the dynamism of our universities, and to lives of learning and opportunity.
Bryan Stevenson: Celebrating The Power Of Forgiveness
Bryan Stevenson: Celebrating The Power Of Forgiveness 2014-04-24
On a June evening in 1988, Robert Cushing, a retired schoolteacher who had raised seven children heard a knock at the door. When he opened the door in his peaceful New Hamphire neighborhood, a deranged man leveled a shotgun at him at shot him twice in the chest. Mr. Cushing died in front of his wife. Last week in New Hampshire, the state senate voted 12-12 on a bill that would have abolished capital punishment. The legislation had already overwhelmingly passed the House of Representatives, and many believed that abolition will soon come to New Hampshire. The legislation is sponsored by Renny Cushing, the son of that murdered former schoolteacher. Rep. Cushing founded Murder Victims' Family Members for Human Rights in 2004 and has been a leading voice for resisting the impulse to respond to violence and murder with revenge and excessive punishment. He is a living witness to the power of transcending the harm we do to one other in search of reconciliation.
I have spent nearly 30 years trying to help people who have seriously hurt, injured or killed other people. I recognize that this community of offenders with whom I work is an unusual choice. That's especially true since I hate violence. It breaks my heart when I see people abuse others, mistreat others or even disrespect others. Living in the United States, I see too much abuse, too much violence and too much disrespect. It might seem odd to want to help those who have offended, injured or hurt others, but I'm persuaded that simply condemning and persecuting those who offend, those who fail, is not a healthy way forward. I believe there is something important, possibly even transformational, in helping people recover from their worst mistakes.
In too many places, fear and anger shape the way we act and the way we treat each other. Americans buy over four million guns each year despite the fact that over 30,000 people die every year from gun injuries in this country. Some politicians and leaders exploit fear while gun makers describe owning weapons of violence and destruction as an essential, inalienable right. We arm ourselves and resist meaningful efforts at understanding the sources of our fear. We don't want to discuss or question whether our anger is justified or legitimate.
America now has the highest rate of incarceration in the world. We have five percent of the world's population but 25 percent of its prisoners. Today, one in three black male babies born in the U.S. is expected to go to jail or prison at some point during their lifetime. The percentage of women sent to prison has increased 640 percent in the last 20 years. We have condemned nearly 3000 children to die in prison. We send people with drug problems to prison for decades, some non-violent offenders are sentenced to life imprisonment for petty crimes. The mentally ill and disabled have been imprisoned for lengthy sentences because we won't help them treat their illnesses. In one of the world's greatest democracies, we hurt each other constantly and punish each other severely with very little concern about forgiveness or understanding.
We have a history of racial injustice and inequality in America that has left deep wounds and untreated injuries. African Americans have been enslaved, terrorized, traumatized, subjected to racial subordination and presumed guilty, dangerous and inadequate in hundreds of ways. Native Americans have been slaughtered and confined into spaces where poverty and dysfunction have become epidemic with serious, continuing challenges. We have responded to some immigrants by ignoring their humanity and focusing only on the fact that they are undocumented, reducing them to fugitives and creating enormous suffering and despair in many communities of color.
Even our families can be torn apart by the forces around us that push us to abuse trust and minimize our obligations to care for one another. Our lives have been undermined by fear and anger and an unwillingness to talk about the importance of reconciliation and restoration in big and small ways.
Yet, there are many among us who are determined to find a better way. There are family members of murder victims who have organized themselves to seek reconciliation rather than capital punishment. There are gang members that have laid down their arms in pursuit of peace and less violence. There are places where black people and white people have come together to promote truth and reconciliation and racial healing and justice. There are family members who have made their love for one another strong enough to overcome abuse and hurtful misconduct.
We are living at a time when talking about forgiveness and how we must value each other more dearly is critically important. There is a limit to how much we can recover from our mistakes, our transgressions, our abuse of one another by adopting solutions that are rooted in anger, fear and more violence. There must come a time when we seek to understand more, to recover more. We have to value reconciliation over revenge, restoration over retribution, rehabilitation instead of resistance to the idea that we are all no more than our worst acts. I work with offenders because I've learned that there is justice in compassion. There is power in forgiveness, hope when we seek more than condemnation.
We need more hope, more forgiveness, more justice. But it only happens when each of us is more hopeful, more forgiving and more just.
Renny Cushing has responded to people who question why after having lost a family member to murder he chooses to seek reconciliation. "Not only would my father have been taken from me, but so too would my values ... I think it is the same for all of us as a society. If we let those who kill turn us into killers and evoke violence and evil from us, we are much the worse for it."
It is not easy, it is not obvious. There are real dangers in the way some of us behave. We have an endless capacity to hurt and do violence to one another that can't be oversimplified or ignored. We have a legitimate need to want to be safe and protected from reckless and destructive forces. But ultimately our freedom, our humanity and our peace abides not in our capacity to condemn, to hate and to fear, rather it turns on our willingness to forgive, to understand and to seek reconciliation.
This post is part of a series produced by The Huffington Post and the Tutu Global Forgiveness Challenge, which is a free 30-day online program developed by Desmond and Mpho Tutu to teach the practical steps to forgiveness they share in their new book, The Book of Forgiving: The Fourfold Path for Healing Ourselves and Our World. Learn about the campaign here, and sign up to participate yourself. Read all posts in the series here.
Winnie M Li: From Westeros To White Ribbon: Examining The Male Reaction To Rap
Winnie M Li: From Westeros To White Ribbon: Examining The Male Reaction To Rape 2014-04-24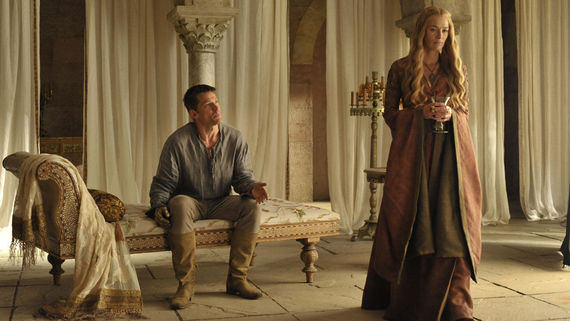 Feminists this week have been writing furiously about the representation of rape in the HBO series Game of Thrones, specifically that creepy scene (*spoiler alert*) in Episode 3, involving a brother-sister rape next to the corpse of their incest-born son.
A rape survivor myself, I wasn't so furious. In fact, I found it telling that Cersei Lannister -- arguably the most powerful woman in the fantasy kingdom of Westeros -- could still be subjected to rape at the hand(s) of her own brother and former lover. (Reason No. 57 why the Lannisters are the worst family in Westeros.) Personally, I think that's a potent statement from the show's creators, reminding us that sexual assault can affect anyone regardless of how high you sit in a fictional society or in the real world.
What I did find odd is that journalists seemed more eager to discuss the complexities of a fictional rape than one involving real people. Laura Hudson on Wired.com exposed the unwillingness of the episode's director to see the scene as rape. On Salon.com, Roxane Gay's article "Game of Thrones Glamorizes Rape" cited this as another example of TV using rape as a narrative device, "used to create drama and ratchet up ratings." Sonia Saraiya on The A.V. Club similarly considered the frequent depiction of rape on the television show as a turn towards misogyny. For her, Game of Thrones uses female nudity and sex (both consensual and non-consensual) to draw in male viewers, with little regard for the ethical implications.
These are all interesting arguments, and as both a film producer and a rape survivor, I certainly have my views on the representation of rape in popular culture (which I'll explore in the weeks to come). But today, I'd rather link this recent debate about a fictional rape with things that have been happening in the real world.
The above journalists imply that by portraying rape so frequently as a narrative device, television desensitizes viewers (specifically male viewers) to the emotional horror of rape and the devastating impact it can have on victims. Rape is no longer a real crime; it becomes the stuff of fiction. Whether or not this desensitization happens, I do believe there is vacuum of open public discussion about rape as a real experience and a real crime. We know feminists and rape survivors will always be concerned about issues of sexual assault. The main question is: can we get the rest of the people in society out there to care about the issue? More importantly, can we get unaffected men to care about the issue?

A few days before Episode 3 of Game of Thrones aired, Tom Meagher's compelling article ran in The Guardian. A widower whose wife had been raped and murdered in Australia by a convicted serial rapist on parole, Meagher argued against the myth of seeing all rapists as monsters.
This is something I very much agree with. My own assault in 2008 was by a 15-year-old stranger who followed me in a park. When I was interviewed on the radio some years later, a BBC journalist referred to a psychological report on my convicted assailant and repeatedly asked me: "Is he a monster?"
I could sense that journalist's hunger for a sensationalized headline: "Rape Victim Calls Her Rapist a Monster." But frankly, I don't think we should be using that word for anyone, regardless of what their actions are.
Last time I checked, we weren't living in a sci-fi/fantasy world. Our world is populated by human beings, not monsters. A number of psychological and sociological factors can lead to a human committing monstrous crimes. But to say that a rapist is, by nature, a monster is denying the accountability of our own society in encouraging boys to become rapists, in ignoring the seriousness of rape and allowing it to be committed again and again -- and never really addressed.
Not all rapists are lurking strangers like my own attacker or the man who killed Jill Meagher. In fact, most rapists are someone the victim knows -- a colleague, a supposed friend, or -- as Game of Thrones has just reminded us -- even your former lover or brother. By failing to acknowledge the familiarity of our rapists, by obscuring the facts with the popular myth of the outcast monster, we are hampering our own ability to address the issue.
Meagher headlines the Ireland chapter of the White Ribbon Campaign, "the world's largest men's organization dedicated to combating harmful social norms that perpetuate men's violence against women." I believe one of the most harmful social norms is the male unwillingness to discuss rape. While the majority of men respect the notion of sexual consent, too many are embarrassed to talk about rape. The word itself seems to kill conversation. Filmmaker Jessie Kahnweiler, in her article this week, described how her dating life has suffered since her short film "Meet My Rapist." Men react strangely to her identity as a rape victim and avoid approaching her sexually. But what would have been her other option -- to keep quiet about it and perpetuate the silence? To bring in the Game of Thrones debate, is it a problem that men constantly see dramatized rape scenes on screen, and yet so few can discuss the reality of rape when it affects people they actually know?
My own male friends had a range of reactions to the news of my rape. Some were immediately supportive. Others froze up and took weeks to say anything to me. And many were also full of anger towards my attacker, even expressing hopes that he himself would be raped in prison. Tom Meagher heard similar sentiments directed towards his wife's murderer, yet he argues for a more nuanced view of the issue. Rape is not a form of punishment. And further violence is not the answer. That's not a response they would like in Westeros, but then again, this is the real world. And our world is populated by human beings.
Lincoln Mitchell: Why Would Paul Ryan Think About Race?
Lincoln Mitchell: Why Would Paul Ryan Think About Race? 2014-04-24
It is not clear whether Paul Ryan's comments last month about poverty and African Americans were intended to be racist, but it is difficult not to interpret them that way. Perhaps Ryan did not realize that "inner-city" is racial code for African American or that Charles Murray is seen by many as a racist psuedo-scholar rather than an authority on poverty. It is also possible that Ryan does not understand that poverty and unemployment are hardly problems limited to the inner cities or to African Americans.
Ryan's true intentions may not be knowable, but the comments themselves are revealing, but not because of their substance. We already know that Ryan's views on economics lean toward lowering taxes cutting programs that might help poor people and relying on the magic of the market. Anybody with those beliefs will naturally support any argument that suggests the way to solve poverty problems is not through increased social spending, so there is no surprise there.
Ryan, however, is not just another conservative member of Congress. He has spent several years trying to establish his bona fides as deep conservative economic thinker, largely by pouring old supply side wine into new powerpoint bottles. He is also a past, and very likely future, candidate for national office. Ryan may have made these comments deliberately, knowing the anger it would precipitate from African Americans, as a way to signal to the Republican base that he could be trusted to be sufficiently conservative. If that is the case, then Ryan was indeed speaking in a racist way.
There is another, perhaps more plausible, but equally disturbing explanation. Perhaps Ryan believes that cultural issues contribute to poverty, and meaning to speak about poverty generally, unwittingly used racially coded language and invoked the name of a writer who has been accused of being a racist. If this is true, it reveals that a national Republican figure has thought so little about race in American that he does not know the very basics of how to speak about poverty without stumbling into accusations of racism.
This, is unfortunately a reasonably plausible scenario, but one that underscores that in a country that is more racially diverse every day, the Republican Party, Ryan after all is generally presented as one of the smarter and more thoughtful nationally prominent Republicans, does not understand the very basics of how to speak about race and poverty.
To some extent this is to be expected given not only that African Americans vote heavily Democratic, but that Republicans rarely even seek African American votes anymore. In this regard Ryan is simply a representative of his party and his time. The impact this has had and will continue to have on the US is nonetheless significant. Because Republicans do not seek African American votes, there is no need for them to have a lot of contact with African Americans at all. Therefore, Republicans do not need to, and generally do not, understand the problems, challenges and concerns that are particularly distinct for African Americans. For example, for inner city African Americans, the absence of good jobs, predatory lending, the prison-industrial complex and bad schools are considerably more serious issues than Ryan's amorphous cultural explanations.
A Republican Party that has over a period of decades removed itself from any close political contact with African Americans not only will naturally have a very poor understanding of that group, but will be committed to the belief that race is no longer an important issue in the US. If race is not an important issue, it is much easier for Republicans to explain away their lack of success with or interest in African Americans. This contributes to the Republican insistence that racism is a thing of the past and that any suggestion that race or racism is driving a policy or campaign tactics is dismissed as somebody else is playing the race card.
Ryan's comments last month reflect a political climate where Republicans not only do not meaningfully speak to African American citizens, but they tell themselves and their supporters stories about politics and economics that will ensure that they do not have to speak to African American voters in the future. This is, in the short term, bad for the Republican Party as it means that in order to win elections in many states, they have to run up margins among white voters that are increasingly difficult to attain. More significantly it institutionalizes a political environment where denying the enduring effects of racism becomes a political and psychological survival strategy for almost half of the polity.
Alexander Kjerulf: Top 10 Bad Excuses For Not Quitting That Job You Hate
Alexander Kjerulf: Top 10 Bad Excuses For Not Quitting That Job You Hate 2014-04-24
Martin was desperately unhappy in his last job, but still ended up staying for years.
He had many excuses for why. One was money. Not the amount itself, but rather the security that it gave him. He had no savings and some debt which made switching jobs a scary prospect.
The second reason was the memory of the good times in the company. It started out great but the problems began when a co-worker quit and Martin got his position. The new job turned out to be a nightmare because of a bad manager and huge organizational problems.
For a long time Martin thought things would change and he did his best to solve the problems but instead things only got worse and worse and Martin developed a lot of warning signs. He constantly got sick (flus, back pain and headaches in his case), he was constantly tired, he started to procrastinate and stopped caring much about the quality of his work.
After a long time, he found a new job and he told me in an email, that as soon as he quit the old job, his physical symptoms disappeared and his energy returned. The only thing he regrets is not quitting sooner.
If you're unhappy at work, I'm sure that the thought "Man, I really should quit!" crosses your mind occasionally.
So why don't you?
Even if you long desperately to get away from your horrible workplace, annoying co-workers or abusive managers, you may hesitate to actually do anything about it, because right on the heels of that impulse come a lot of other thoughts that hold you back from quitting.
These excuses may sound like the voice of sanity, offering perfectly good reasons why it is in fact better to stay and endure that bad job just a little longer, but look a little closer and they may not really hold up. What they do instead is keep you trapped in a job that is slowly but surely wearing you down.
Here are 10 of the most common bad excuses for staying in a bad job. Have you ever used any of them?
#1 "Things might get better." That jerk manager might be promoted out of there. That annoying co-worker could quit. That mound of overwork could suddenly disappear.
On the other hand, nothing might change. Or things might actually get worse. If you've already done your best to improve your work situation and nothing's happened, just waiting around for things to improve by themselves makes very little sense.
#2 "My boss is such a jerk but if I quit now, he wins." Who cares. This is not about winning or losing, this is your life. Move on, already.
#3 "I'm not a quitter." Guess what these somewhat successful people have in common: Larry Page, Sergey Brin, Tiger Woods, Reese Witherspoon, John McEnroe and John Steinbeck?
Yep, they all dropped out of Stanford.
The old saying that "Winners never quit and quitters never win" is just plain wrong and leaving a bad job is often the best option.
#4 "Quitting will look bad on my CV and I'll never get another job." Well not if you stay in your current job while it slowly grinds you down, you won't! In fact, the longer you stay in a bad job, the more it robs you of the energy, optimism, self-confidence and motivation you need to find something better. Move on while you still can.
#5 "If I quit I'll lose my salary, status, company car, the recognition of my peers, etc." Yes, quitting a job carries a price and that makes it scary. We all know this intimately.
But few ever ask this question: What is the price of staying in a job that makes you unhappy?
That price can be very high. It can ruin your work life but also your marriage, your family life, your health, your self-esteem and your sanity. Not all at once, but a little bit every day.
Here's a previous article I wrote on The Top 5 ways Hating Your Job Can Ruin Your Health (According to Science).
#6 "Everywhere else is just as bad." That's just nonsense. There are plenty of great workplaces in every industry.
#7 "I've invested so much in this job already." You may have sacrificed a lot of time, energy and dignity already in attempts to make things better. This will make it more difficult for you to call it quits.
It reminds me of how Nigerian email scammers sucker in their victims. At first it's a small fee of just a few dollars but if you pay that, the amounts grow and grow. At each step the victim is reluctant to stop because that would mean losing all the money he's spent so far.
Quit anyway. Staying on is just throwing good time after bad.
#8 "I'll lose my health insurance." This is a particular concern for U.S. workers and I have a lot of sympathy for this argument. Where I live (Denmark) everybody gets free health care regardless of their employment situation so I can't imagine the leverage this must give employers.
Fortunately for Americans, Obamacare is making it easier to obtain health care regardless of your employment situation and according to experts, this will help reduce "job lock", i.e. "when people stay in jobs they dislike, or don't want, solely to keep their health coverage."
Also: Ask yourself what good job-related health insurance is, if the job is actually making you sick -- which bad jobs can absolutely do.
#9 "My job pays very well." I have zero sympathy for this argument. I don't care how well your job pays; if it makes you unhappy it's not worth it.
Quite the contrary, if you make a lot of money now, use that financial security to quit and find a job that'll make you happy. Also, finding a job you like will boost your performance (happy employees are more productive) potentially leading to more promotions and a higher salary.
#10 "My family depends on me." I get that. But maybe it would actually be better for your spouse and children if you got a good job, so you didn't come home from work every day tired, irritable, stressed or frustrated.
The upshot Here's another email I got from a reader of my blog: I quit my job today! Don't know what I am going to for sure, I just know that by quitting I instantly improved the quality of my life.
Many of us would be much happier at work if we quit bad jobs sooner. I've talked to many people who have finally managed to quit a bad job and only wished they'd done it sooner. I have met very few who quit crappy jobs only to wish they'd stayed on longer.
I'm not saying this is an easy choice -- it is in fact one of the tougher decisions a person can face in their lifetime. And I am definitely not saying that quitting is always the right choice -- there are obvious financial and practical realities to face.
So you may have perfectly good reasons to stay in a bad job -- all I'm saying is that it pays to examine those reasons very closely to make sure that they hold up. Because it may just be the fear talking.
Your take What do you think? Have you ever been stuck in a lousy workplace? What kept you from leaving? What finally made you quit? Did I miss any excuses people use to not quit? Please write a comment, I'd love to hear your take.
-- Alexander Kjerulf, the "Chief Happiness Officer," is one of the world's leading experts on workplace happiness and the author of Happy Hour is 9 to 5: How to love your job, love your life and kick butt at work. Alexander is a speaker, consultant, and author with a global following of millions. He runs a consultancy firm offering lectures, workshops, and leadership training with focus on happiness at work for clients including IBM, Hilton, LEGO, HP and Ikea.
Richard (rj) Eskow: So You've Read (or Read About) Piketty. Now What?
Richard (rj) Eskow: So You've Read (or Read About) Piketty. Now What? 2014-04-24
When a product sells phenomenally well, as Thomas Piketty's new book is currently doing, popular economic theory says that means one of two things: either it's filling a substantial unmet demand, or the product is exceptionally well executed. In the case of "Capital in the Twenty-First Century," both statements are true.
We are told that "Capital" is now at the top of the Amazon sales charts, outselling even mass-market novels with movie tie-ins like "Divergent." That kind of meritocratic success story is, as Piketty's work demonstrates, increasingly rare.
Piketty has given us a superior product. He has brilliantly and eloquently analyzed the crisis of inequality which threatens the global economy. The question now is, What do we do about it?
Success Story
There's a certain irony in the fact that this book, rooted in historical economic principles and concerned with the threat of oligopoly wealth, is putting a few more dollars in Jeff Bezos' pocket. But these surprising sales figures tell us something very important: people are yearning for an explanation of the dire economic straits in which they find themselves. Piketty's highly readable style, innovative mind, and breadth of knowledge have made him the ideal candidate to meet this need.
As Piketty himself points out, the Occupy Wall Street movement showed that even seemingly abstruse mathematical concepts like "the top centile" can galvanize large numbers of people when they are translated into simpler language like "the 1 percent." And, in fact, the phrase "we are the 99 percent" is derived from years of research by Piketty and his co-authors.
Paul Krugman called it "truly superb" and a "magnificent, sweeping meditation on inequality" in the New York Review of Books, and spent a half hour explaining its importance in an informative interview with Bill Moyers.
The praise is certainly warranted. Piketty shows a command of both the economic data and its historical context. (Piketty is a firm believer that the distinction between economics and other social sciences is wrong-headed and calls for more works of "serial history.")
Piketty also engages the reader with an eclectic perspective that leads him to investigate both the likely income needs of a Balzac hero and the probable population of the planet at the time of Christ's birth.
Economists and policy analysts concerned with wealth inequality have long depended on the research of Piketty and his collaborators. This book has turned that research into what Krugman calls a "Eureka" moment. Adds Krugman: "We'll never talk about wealth and inequality the same way ..."
Agreed. But then what?
Perhaps it's best to start is by acknowledging that, however bad you think inequality has become, it's worse than that. Piketty paints the picture of global wealth collapsing in upon itself - and the small percentage of the population which holds most of it - as if it were the fabric of the universe collapsing into a black hole.
It's impossible to summarize a 600-page book. But some of its key insights, including the now-famous formula r > g, lead the reader to conclude that, unless something changes, the wealthy will keep wealthier at an accelerating (and, to Piketty, "terrifying") rate.
A Pointed Critique
Piketty is cultured and high-minded in his prose style, but that doesn't prevent him from writing paragraphs like the one in which he describes the United States as "on the one hand ... A country of egalitarian promise, a land of opportunity for millions of immigrants of modest background; (and) on the other ... a land of extremely brutal inequality, especially in relation to race, whose effects are still quite visible."
He is also capable of displaying an extremely dry wit, as when he points out that US academic economists are upper-income earners, "many of whom believe that the economy of the United States is working fairly well and ... That it rewards talent and merit accurately and precisely."
"This," Piketty adds wryly, "is a very comprehensible human reaction."
With so much of our policy debate dominated by such economists, Piketty's pointed observations can be an extremely useful tool for shifting the terms of debate. He is generous towards economists of earlier generations like Simon Kuznets, who he suggests may have overstated (even if subconsciously) the egalitarian merits of capitalism out of anti-Communist fervor during the Cold War.
But Piketty rightly targets his professions obsession with abstract theorems, noting that his colleagues' methods "rely on an immoderate use of mathematical models, which are frequently no more than an excuse for occupying the terrain and masking the vacuity of the content."
As the young people reportedly say: Snap!
These preoccupations, Piketty suggests, have led to the rise of executive "supersalaries," tolerated by shareholders and board members who wrongly believe they reflect executives' genuine market value. They have also led policymakers to wrongly conclude that the extremely wealthy, even those who are wealthy through inheritance, can only be described as "deserving."
Presumably the economics profession's tendency towards mathematical abstraction, combined with the "enlightened self-interest" of some of its members, has led it to participate in crafting the ideological justification for increasingly extreme wealth inequality. In addition, as Piketty points out, "the way one tries to measure inequality is never neutral."
Nor are his concerns strictly methodological. He is especially concerned by those who, whether economists are not, argue against the evidence that wealth in present-day capitalism is based on merit. He characterizes this as "meritocratic extremism," of which he says:
"This kind of argument could well laid the groundwork for greater and more violent inequality in the future. The world to come may well combine the worst of two past worlds: both very large inequality of inherited wealth and very high wage inequalities justified in terms of merit and productivity (claims with very little factual basis ...)."
Concludes Piketty: "Meritocratic extremism can thus lead to a race between super managers and rentiers, to the detriment of those who are neither."
And "detriment" is putting it mildly.
What Is To Be Done?
Piketty doesn't just analyze the problem of global capitalism. He also prescribes solutions, and he does so with a scrupulous aversion toward ideological assumptions of any kind. That approach undoubtedly helped him come up with creative solutions for the inequality problem, the most noted of which has been the "global wealth tax."
That is, as Piketty concedes, a "utopian idea." The fact that it's utopian doesn't make it any less important, and the concept gives us a new way to look at the national and global economy. If nothing else, it's an important thought experiment. Throughout the book, Piketty is enthusiastic about taxation as a source of valuable data. For that reason alone, even a modest global wealth tax would create the most informative map of the world's wealth in history.
As Piketty also notes, a wealth tax - which he proposes to impose only on the very wealthy - could also be used to solve the problem of public debt. As an example, he writes that "a flat tax of 15 percent on private wealth would yield nearly a year's worth of national income and thus allow for immediate reimbursement of all outstanding public debt."
While that idea is not likely to be adopted either, its inclusion in the policy debate would likely have the laudable effect of discouraging hedge fund billionaire Pete Peterson and the Wall Street CEOs behind Fix the Debt from ever talking about government deficits again.
Piketty also points out that "according to our estimates, the optimal top tax rate in the developed countries is probably above 80 percent." And yet, he doesn't give this thought the same emphasis that he offers to the global wealth tax, even though it is probably less "utopian" and easier to imagine being enacted.
He's not perfect. Piketty also misstates the actuarial conditions under which today's pension plans operate, arguing that "in a world where people die between 80 and 90, it is difficult to maintain parameters that were chosen when the life expectancy was between 60 and 70." In fact, most of that change in life expectancy is due to lower infant mortality, a shift which does not affect the financing of pension programs.
You've Read Piketty. Now What?
American economist Dean Baker has written an important reaction to Piketty's book entitled "Economic Policy in a Post-Piketty World." Baker describes the "full bag of policy tools" which are available today. These include a robust financial transactions tax; an end to government-sanction monopolies in drug patents; a higher minimum wage; a carbon tax; and an end to monopoly rents in a variety of industries.
"If this post-Piketty agenda sounds a great deal like the pre-Piketty agenda," Baker writes, "it's because the book probably did not change the way most progressives think about the world." That's true. But Piketty's masterful work provides the populist movement with a new vocabulary, along with a powerful data resource with which to make its arguments.
"Capital" offers activists, analysts, and lawmakers a new pair of glasses with which to view our economic landscape. If some of that landscape already looks familiar, that's to be expected. And even when we choose to plot a slightly different course than the one Piketty recommends, he has provided a valuable service.
Thomas Piketty navigates his terrain with three stars to guide him: economics, history, and a deep grasp of Enlightenment ethics. That has brought him, and us, to a deeper understanding of inequality's genuinely "terrifying" implications.
Where we go from here is up to us.
(This is an edited version of an essay which originally appeared here.)
Blake Kernen: Why 'take Your Kid To Work Day' Is Not Overrated
Blake Kernen: Why 'take Your Kid To Work Day' Is Not Overrated 2014-04-24
Time for one of my favorite days of the year: Take Our Daughters and Sons to Work Day. I go to work with my dad, 4 a.m. wake-up call and all, and it's an experience my younger brother and I truly look forward to each April.
And apparently, we're not the only ones. The program was founded 21 years ago, and today more than 37 million kids and adults participate at over 3.5 million workplaces. This year's theme is "Plant a Seed, Grow A Future."
There are a number of reasons why I think it's such a great day: a TV network, dad's colleagues and their kids, learning new things, meeting new people, and a guilt-free day off from school. But the best thing about going to Take Your Kids to Work Day is seeing my dad do something he truly loves to do. And that's inspirational.
My dad found "it" and he's lucky he did. "It" is figuring out what you really want to do in life, going for it and doing it. It's earned success, finding out what makes you happy, working at it, and achieving it. Earned success can be anything you want it to be -- writing beautiful stories, making music, painting, being a doctor, helping others, bankers, lawyers -- something that brings value to your life, and other people's lives. For many people, earned success is one of the most gratifying and satisfying feelings in the world.
Entrepreneurs and innovators already know this. And, it's really not all about how much money they make, or even how many times they fail before making any money. The average entrepreneur makes under $45,000 per year, and fails 3.8 times before succeeding. It's their desire for earned success, doing something that they love, and the satisfaction and happiness that come with it, that keeps them motivated.
I hate to say it but my days of attending Take Your Kids to Work Day are probably numbered. At 14 years-old with working papers and a parent's signature, I can look for my own job, and if I land one, I'll get minimum wage (that's $8.25 an hour in my state), which sounds pretty great to me. In reality, it sounds even better to the 6.7 percent of Americans (10.5 million people) who are currently unemployed.
I'm hoping my dream job is out there somewhere, someday, but for right now, I'll settle for another great day at the office with my dad.
Peace Love Profits,
Blake
www.peaceloveprofits.com
The B Team: 12 Months Since Rana Plaza: Why Business Needs A Plan B
The B Team: 12 Months Since Rana Plaza: Why Business Needs A Plan B 2014-04-24
A year ago today, over 1,100 Bangladeshi garment workers lost their lives when, despite prior warnings, the building in which they were working collapsed. Over 2,500 more were injured in the disaster, some crippled for life.
The victims of the Rana Plaza factory collapse, most of them young women, were part of a global supply chain that brings affordable garments to markets around the world. This was not the first event of its kind in Bangladesh, and Bangladesh is not the only country where industrial disasters have occurred.
As members of The B Team, we recognize that these incidents violate basic human rights, they are avoidable and they must stop.
We know that change is possible. More than a century ago, industrial disasters in Great Britain and the United States became the focus of national campaigns that led to improved working conditions and greater societal concern for worker safety. Problems such as blocked exits, locked doors and inadequate inspections of factory conditions were addressed generations ago in these parts of the world.
In response to the Rana Plaza disaster, two separate initiatives involving global apparel brands have taken shape over the past year -- 'The Bangladesh Accord on Fire and Safety' and the 'Alliance for Bangladesh Worker Safety.' Both are a critical part of wider efforts by governments, international organizations, domestic manufacturers and local civil society organizations to ensure such accidents do not happen again. These initiatives, as well as the Rana Plaza Arrangement, which is the only coordinated and systematic approach to ensure all the victims, their families and dependents will receive entitlements to cover their losses, are clear steps in the right direction, but more is needed.
Ultimately, we believe business should be a driving force for wellbeing. That is why we have committed to listen to the needs of employees throughout our businesses and supply chains and to make sure they are treated with dignity. This means building an environment in which all employees can thrive, in line with international human rights and labor standards and where workers receive a fair proportion of the value they create through a decent living wage.
While immediate action by companies is absolutely necessary, their efforts alone cannot achieve a sufficient response. Another Rana Plaza could happen any day and workers around the world remain at risk. Current attempts to address worker safety are too dependent on audit-led approaches. These are incremental at best, and unlikely to bring about the systemic changes needed.
To ensure decent work for all, concerted action is required at multiple levels.
The UN Guiding Principles on Business and Human Rights provide an overarching authoritative framework for ensuring businesses everywhere are respectful of human rights. They reaffirm existing state obligations and make clear that all companies have a responsibility to respect human rights throughout their operations and supply chains. In Bangladesh this means retailers that rely on a wide network of suppliers for production must know and accept responsibility for addressing factory safety throughout their supply chains.
Western governments and international institutions must also invest more to bolster the Government of Bangladesh, which needs to create a culture of safety, not only through effective industry regulation, inspection and monitoring of factories, but also by strengthening infrastructure. Governments must also accelerate their efforts around the world and at a local level to improve regulations; ensuring companies everywhere adhere to universally accepted human rights.
Businesses and their shareholders must play a bigger role in improving factory infrastructure and paying fair wages to workers -- recognizing their right to form unions and bargain collectively. They must also put the right safeguards in place throughout their operations and provide training and support to principal suppliers and to all subcontractors to help them meet international standards. This will require long-term business commitments to Bangladesh that will enable shared approaches to addressing these challenges.
Civil society has an equally crucial role, not only in providing legal aid and support to workers, but also in encouraging citizens to vote with their wallets, demanding that their favorite brands treat workers with dignity. Increasing consumer pressure will help ensure businesses are accountable for providing a safe working environment, where workers can form trade unions to collectively negotiate for improvements in their pay and conditions.
And where protection gaps exist, business, unions, civil society, and governments must come together to address abuses by developing adequate remedies that reach all garment factories in Bangladesh without undermining existing legal frameworks and protection mechanisms.
If such levers can be used, we can move much closer to a system that puts inclusive prosperity and long-term sustainability before short-term profits.
No worker should ever have to fear for her or his life while on the job. Our inaction has given tacit consent to a system that leaves far too many workers vulnerable in the face of unacceptable risks.
We must move faster to bring about these changes. It will require bold action, courageous leadership and new business models. We all have a role to play. Rana Plaza must not fade in our memory, or become just another tragedy among many -- but remain a clarion call for global collective action to protect human rights regardless of the financial cost.
This statement is issued by The B Team including:
Shari Arison, Sir Richard Branson, Kathy Calvin, Arianna Huffington, Mo Ibrahim, Guilherme Leal, Strive Masiyiwa, Blake Mycoskie, Dr. Ngozi Okonjo-Iweala, François-Henri Pinault, Paul Polman, Ratan Tata, Zhang Yue, Professor Muhammad Yunus and Jochen Zeitz. Mary Robinson and Dr. Gro Harlem Brundtland are honorary members of the team, representing People and Planet.
The B Team is a not-for-profit initiative formed by a global group of leaders to create a future where the purpose of business is to be a driving force for social, environmental and economic benefit.
For more information please visit www.bteam.org.
Timothy Karr: Strike Two: Obama's Second Fcc Chairman Fails On Net Neutrality
Timothy Karr: Strike Two: Obama's Second Fcc Chairman Fails On Net Neutrality 2014-04-24
When President Obama pledged to appoint a Federal Communications Commission chair who would protect Net Neutrality, we had no reason to doubt he'd find the right person for the job.
Obama campaigned in 2008 as a strong champion of the open Internet, saying he'd "take a back seat to no one" in safeguarding Net Neutrality.
Now the president is on his second FCC chair, and neither has proven himself up to the task.
Strike One
The first, Chairman Julius Genachowski, constructed an "Open Internet Rule" that was doomed from the start. Built on a flimsy legal foundation and riddled with corporate-friendly loopholes, the Genachowski rule was shot down by a federal appeals court in January.
By then Genachowski had fled the FCC, leaving his mess for others to sort out.
No worries, President Obama said earlier this year. "The new commissioner of the FCC, Tom Wheeler, whom I appointed, I know is a strong supporter of Net Neutrality."
Obama noted that the court decision, while rejecting Genachowski's scheme, did confirm that the FCC could use its powers to protect Internet users from online censorship and discrimination.
"They have authority," Obama said. "And the question now is how do they use that authority. If the old systems and rulings that they had in place were not effective in preserving Net Neutrality, do they have other tools that would stand up to court scrutiny that accomplishes the same goals."
Strike Two
As Obama's second FCC chairman, Wheeler will today release a proposal for a new rule. All reports suggest that Wheeler's proposal betrays Obama and the millions of people who have called on the FCC to enact strong and enforceable Net Neutrality protections.
The plan reportedly would allow Internet service providers to charge extra fees to content companies like Google and Netflix for preferential treatment. Giving ISPs the green light to implement Internet payola schemes would be a disaster for startups, nonprofits and everyday Internet users who can't afford these unnecessary tolls. The Zero-Sum Game
This is bad news for anyone who thinks the Internet should remain open to all comers. The Internet's flat network architecture has allowed anyone to innovate without having to first seek permission from the service providers that control much of the access to Internet users. Under Wheeler's proposed regime, ISPs won't just be able to favor the sites that pay up; they'll also be allowed to give special preference to their own services. For years companies like AT&T and Verizon have tried to kill any Net Neutrality rules that prevent them from protecting their legacy voice, text and video services from the kind of competition the open Internet makes possible. The prioritization of data on the Internet is a zero-sum game. Unless there is actual congestion, no website will pay for priority treatment. This means Wheeler's proposed rules would actually give ISPs the incentive to create congestion through artificial scarcity -- by clamping down on the data stream and charging more per bit. Americans need the opposite: an Internet that is fast, open, affordable and abundant. Under Wheeler's scheme there is no motivation for ISPs to deliver the next-generation Internet. In a statement late Wednesday evening, Wheeler indicated that the January court decision shaped his approach here. But the court ruling gave Wheeler a clear path forward: To protect real Net Neutrality, all the FCC needs to do is reclassify broadband providers as the common carriers they are. Wheeler instead chose a convoluted prioritization scheme that undercuts the level playing field that has made the Internet such a powerful engine for opportunity. Obama's Choice
A former cable and wireless industry lobbyist, the chairman is a longtime Obama loyalist and fundraiser. Prior to today's proposal he had declared his commitment to a "free and open Internet" and public service. "If I am fortunate enough to be confirmed, my client will be the American public and I hope that I can be as effective an advocate for them as humanly possible," Wheeler told senators during his confirmation hearing last June. His decision to clear the path for a payola Internet is an insult to the millions of people who have actively called on the agency to preserve the open Internet. And it's an insult to President Obama, who has repeated his commitment to Net Neutrality on multiple occasions since declaring his White House ambitions. For Obama the choice is now clear: Either you're for Net Neutrality or you're for Tom Wheeler's Internet payola. You can no longer say you're for both.
Peter Van Buren: An Apartheid Of Dollars
Peter Van Buren: An Apartheid Of Dollars 2014-04-24
Life in the New American Minimum-Wage Economy
Cross-posted with TomDispatch.com
There are many sides to whistleblowing. The one that most people don't know about is the very personal cost, prison aside, including the high cost of lawyers and the strain on family relations, that follows the decision to risk it all in an act of conscience. Here's a part of my own story I've not talked about much before.
At age 53, everything changed. Following my whistleblowing first book, We Meant Well: How I Helped Lose the Battle for the Hearts and Minds of the Iraqi People, I was run out of the good job I had held for more than 20 years with the U.S. Department of State. As one of its threats, State also took aim at the pension and benefits I'd earned, even as it forced me into retirement. Would my family and I lose everything I'd worked for as part of the retaliation campaign State was waging? I was worried. That pension was the thing I'd counted on to provide for us and it remained in jeopardy for many months. I was scared.
My skill set was pretty specific to my old job. The market was tough in the Washington, D.C. area for someone with a suspended security clearance. Nobody with a salaried job to offer seemed interested in an old guy, and I needed some money. All the signs pointed one way -- toward the retail economy and a minimum-wage job.
And soon enough, I did indeed find myself working in exactly that economy and, worse yet, trying to live on the money I made. But it wasn't just the money. There's this American thing in which jobs define us, and those definitions tell us what our individual futures and the future of our society is likely to be. And believe me, rock bottom is a miserable base for any future.
Old World/New World
The last time I worked for minimum wage was in a small store in my hometown in northern Ohio. It was almost a rite of passage during high school, when I pulled in about four bucks an hour stocking shelves alongside my friends. Our girlfriends ran the cash registers and our moms and dads shopped in the store. A good story about a possible date could get you a night off from the sympathetic manager, who was probably the only adult in those days we called by his first name. When you graduated from high school, he would hire one of your friends and the cycle would continue.
At age 53, I expected to be quizzed about why I was looking for minimum-wage work in a big box retail store we'll call "Bullseye." I had prepared a story about wanting some fun part-time work and a new experience, but no one asked or cared. It felt like joining the French Foreign Legion, where you leave your past behind, assume a new name, and disappear anonymously into the organization in some distant land. The manager who hired me seemed focused only on whether I'd show up on time and not steal. My biggest marketable skill seemed to be speaking English better than some of his Hispanic employees. I was, that is, "well qualified."
Before I could start, however, I had to pass a background and credit check, along with a drug test. Any of the anonymous agencies processing the checks could have vetoed my employment and I would never have known why. You don't have any idea what might be in the reports the store receives, or what to feel about the fact that some stranger at a local store now knows your financial and criminal history, all for the chance to earn seven bucks an hour.
You also don't know whether the drug tests were conducted properly or, as an older guy, if your high blood pressure medicine could trigger a positive response. As I learned from my co-workers later, everybody always worries about "pissing hot." Most places that don't pay much seem especially concerned that their workers are drug-free. I'm not sure why this is, since you can trade bonds and get through the day higher than a bird on a cloud. Nonetheless, I did what I had to in front of another person, handing him the cup. He gave me one of those universal signs of the underemployed I now recognize, a we're-all-in-it, what're-ya-gonna-do look, just a little upward flick of his eyes.
Now a valued member of the Bullseye team, I was told to follow another employee who had been on the job for a few weeks, do what he did, and then start doing it by myself by the end of my first shift. The work was dull but not pointless: put stuff on shelves; tell customers where stuff was; sweep up spilled stuff; repeat.
Basic Training
It turned out that doing the work was easy compared to dealing with the job. I still had to be trained for that.
You had to pay attention, but not too much. Believe it or not, that turns out to be an acquired skill, even for a former pasty government bureaucrat like me. Spend enough time in the retail minimum-wage economy and it'll be trained into you for life, but for a newcomer, it proved a remarkably slow process. Take the initiative, get slapped down. Break a rule, be told you're paid to follow the rules. Don't forget who's the boss. (It's never you.) It all becomes who you are.
Diving straight from a salaried career back into the kiddie pool was tough. I still wanted to do a good job today, and maybe be a little better tomorrow. At first, I tried to think about how to do the simple tasks more efficiently, maybe just in a different order to save some walking back and forth. I knew I wasn't going to be paid more, but that work ethic was still inside of me. The problem was that none of us were supposed to be trying to be good, just good enough. If you didn't know that, you learned it fast. In the process, you felt yourself getting more and more tired each day.
Patient Zero in the New Economy
One co-worker got fired for stealing employee lunches out of the break room fridge. He apologized to us as security marched him out, saying he was just hungry and couldn't always afford three meals. I heard that when he missed his rent payments he'd been sleeping in his car in the store parking lot. He didn't shower much and now I knew why. Another guy, whose only task was to rodeo up stray carts in the parking lot, would entertain us after work by putting his cigarette out on his naked heel. The guys who came in to clean up the toilets got up each morning knowing that was what they would do with another of the days in their lives.
Other workers were amazingly educated. One painted in oils. One was a recent college grad who couldn't find work and liked to argue with me about the deeper meanings in the modern fiction we'd both read.
At age 53, I was the third-oldest minimum-wage worker in the store. A number of the others were single moms. (Sixty-four percent of minimum-wage employees are women. About half of all single-parent families live in poverty.) There was at least one veteran. ("The Army taught me to drive a Humvee, which turns out not to be a marketable skill.") There were a couple of students who were alternating semesters at work with semesters at community college, and a small handful of recent immigrants. One guy said that because another big box store had driven his small shop out of business, he had to take a minimum-wage job. He was Patient Zero in our New Economy.
State law only required a company to give you a break if you worked six hours or more under certain conditions. Even then, it was only 30 minutes -- and unpaid. You won't be surprised to discover that, at Bullseye, most non-holiday shifts were five-and-a-half hours or less. Somebody said it might be illegal not to give us more breaks, but what can you do? Call 911 like it was a real crime?
Some good news, though. It turned out that I had another marketable skill in addition to speaking decent English: being old. One day as a customer was bawling out a younger worker over some imagined slight, I happened to wander by. The customer assumed I was the manager, given my age, and began directing her complaints at me. I played along, even steepling my fingers to show my sincere concern just as I had seen actual managers do. The younger worker didn't get in trouble, and for a while I was quite popular among the kids whenever I pulled the manager routine to cover them.
Hours were our currency. You could trade them with other employees if they needed a day off to visit their kid's school. You could grab a few extra on holidays. If you could afford it, you could swap five bad-shift hours for three good-shift hours. The store really didn't care who showed up as long as someone showed up. Most minimum-wage places cap workers at under 40 hours a week to avoid letting them become "full time" and so possibly qualify for any kind of benefits. In my case, as work expanded and contracted, I was scheduled for as few as seven hours a week and I never got notice until the last moment if my hours were going to be cut.
Living on a small paycheck was hard enough. Trying to budget around wildly varying hours, and so paychecks, from week to week was next to impossible. Seven hours a week at minimum wage was less than 50 bucks. A good week around the Christmas rush was 39 hours, or more than $270. At the end of 2013, after I had stopped working at Bullseye, the minimum wage did go up from a little more than $7 to $8 an hour, which was next to no improvement at all. Doesn't every little bit help? Maybe, but what are a few more crumbs of bread worth when you need a whole loaf not to be hungry?
Working to Be Poor
So how do you live on $50 a week, or for that matter, $270 a week? Cut back? Recycle cans?
One answer is: You don't live on those wages alone. You can't. Luckily I had some savings, no kids left in the house to feed, and my wife was still at her "good" job. Many of my co-workers, however, dealt with the situation by holding down two or three minimum-wage jobs. Six hours on your feet is tough, but what about 12 or 14? And remember, there are no weekends or holidays in most minimum-wage jobs. Bullseye had even begun opening on Thanksgiving and Christmas afternoons.
The smart workers found their other jobs in the same strip mall as our Bullseye, so they could run from one to the next, cram in as many hours as they could, and save the bus fare. It mattered: At seven bucks an hour, that round trip fare meant you worked your first 45 minutes not for Bullseye but for the bus company. (The next 45 minutes you worked to pay taxes.)
Poverty as a Profit Center
Many low-wage workers have to take some form of public assistance. Food stamps -- now called the Supplemental Nutrition Assistance Program, or SNAP -- were a regular topic of conversation among my colleagues. Despite holding two or three jobs, there were still never enough hours to earn enough to eat enough. SNAP was on a lot of other American's minds as well -- the number of people using food stamps increased by 13 percent a year from 2008 to 2012. About 1 in 7 Americans get some of their food through SNAP. About 45 percent of food stamp benefits go to children.
Enjoying that Big Mac? Here's one reason it's pretty cheap and that the junk sold at "Bullseye" and the other big box stores is, too: Those businesses get away with paying below a living wage and instead you, the taxpayer, help subsidize those lousy wages with SNAP. (And of course since minimum-wage workers have taxes deducted, too, they are -- imagine the irony -- essentially forced to subsidize themselves.)
That subsidy does not come cheap, either. The cost of public assistance to families of workers in the fast-food industry alone is nearly $7 billion per year. McDonald's workers alone account for $1.2 billion in federal assistance annually.
All that SNAP money is needed to bridge the gap between what the majority of employed people earn through the minimum wage, and what they need to live a minimum life. Nearly three-quarters of enrollments in America's major public benefits programs involve working families stuck in jobs like I had. There are a lot of those jobs, too. The positions that account for the most workers in the U.S. right now are retail salespeople, cashiers, restaurant workers, and janitors. All of those positions pay minimum wage or nearly so. Employers are actually allowed to pay below minimum wage to food workers who might receive tips.
And by the way, if somehow at this point you're feeling bad for Walmart, don't. In addition to having it's workforce partially paid for by the government, Walmart also makes a significant portion of its profits by selling to people receiving federal food assistance. Though the Walton family is a little too shy to release absolute numbers, a researcher found that in one year, nine Walmart Supercenters in Massachusetts together received more than $33 million in SNAP dollars. One Walmart Supercenter in Tulsa, Oklahoma, received $15.2 million, while another (also in Tulsa) took in close to $9 million in SNAP spending.
You could say that taxpayers are basically moneylenders to a government that is far more interested in subsidizing business than in caring for their workers, but would anyone believe you?
Back in the Crosshairs
Some employees at Bullseye had been yelled at too many times or were too afraid of losing their jobs. They were not only broke, but broken. People -- like dogs -- don't get that way quickly, only by a process of erosion eating away at whatever self-esteem they may still possess. Then one day, if a supervisor tells them by mistake to hang a sign upside down, they'll be too afraid of contradicting the boss not to do it.
I'd see employees rushing in early, terrified, to stand by the time clock so as not to be late. One of my fellow workers broke down in tears when she accidentally dropped something, afraid she'd be fired on the spot. And what a lousy way to live that is, your only incentive for doing good work being the desperate need to hang onto a job guaranteed to make you hate yourself for another day. Nobody cared about the work, only keeping the job. That was how management set things up.
About 30 million Americans work this way, live this way, at McJobs. These situations are not unique to any one place or region. After all, Walmart has more than 2 million employees. If that company were an army, it would be the second largest military on the planet, just behind China. It is, in fact, the largest overall employer in the country and the biggest employer in 25 states. When Walmart won't pay more than minimum, it hurts. When it rains like that, we all get wet. This is who we are now.
I Was Minimum
It's time to forget the up-by-the-bootstraps fantasies of conservative economists bleating on Fox. If any of it was ever true, it's certainly not true anymore. There is no ladder up, no promotion path in the minimum-wage world. You can't work "harder" because your hours are capped, and all the jobs are broken into little pieces anyone could do anyway. Minimum wage is what you get; there are no real raises. I don't know where all the assistant managers came from, but not from among us.
I worked in retail for minimum wage at age 16 and again at 53. In that span, the minimum wage itself rose only by a few bucks. What changed, however, is the cast of characters. Once upon a time, minimum-wage jobs were filled with high school kids earning pocket money. In 2014, it's mainly adults struggling to get by. Something is obviously wrong.
In his State of the Union Address, President Obama urged that the federal minimum wage be raised to $9 an hour. He also said that a person holding down a full-time job should not have to live in poverty in a country like America.
To the president I say, yes, please, do raise the minimum wage. But how far is nine bucks an hour going to go? Are so many of us destined to do five hours of labor for the cell phone bill, another 12 for the groceries each week, and 20 or 30 for a car payment? How many hours are we going to work? How many can we work?
Nobody can make a real living doing these jobs. You can't raise a family on minimum wage, not in the way Americans once defined raising a family when our country emerged from World War II so fat and happy. And you can't build a nation on vast armies of working poor with nowhere to go. The president is right that it's time for a change, but what's needed is far more than a minimalist nudge to the minimum wage. Maybe what we need is to spend more on education and less on war, even out the tax laws and rules just a bit, require a standard living wage instead of a minimum one. Some sort of rebalancing. Those aren't answers to everything, but they might be a start.
People who work deserve to be paid, but McDonald's CEO Donald Thompson last year took home $13.7 million in salary, with perks to go. If one of his fry cooks put in 30 hours a week, she'd take in a bit more than $10,000 a year -- before taxes, of course. There is indeed a redistribution of wealth taking place in America, and it's all moving upstream.
I got lucky. I won my pension fight with my "career" employer, the State Department, and was able to crawl out of the minimum-wage economy after less than a year and properly retire. I quit Bullseye because I could, one gray day when a customer about half my age cursed me out for something unimportant she didn't like, ending with "I guess there's a reason why people like you work at places like this." I agreed with her: There is a reason. We just wouldn't agree on what it was.
I'm different now for the experience. I think more about where I shop, and try to avoid big places that pay low wages if I can. I treat minimum-wage workers a little better, too. If I have to complain about something in a store, I keep the worker out of it and focus on solving the problem. I take a bit more care in the restroom not to leave a mess. I don't get angry anymore when a worker says to me, "I really can't do anything about it." Now I know from personal experience that, in most cases, they really can't.
Above all, I carry with me the knowledge that economics isn't about numbers, it's about people. I know now that it's up to us to decide whether the way we pay people, the work we offer them, and how we treat them on the job is just about money or if it's about society, about how we live, who we are, the nature of America. The real target now should be to look deeply into the apartheid of dollars our country has created and decide it needs to change. We -- the 99 percent, anyway -- can't afford not to.
Peter Van Buren blew the whistle on State Department waste and mismanagement during Iraqi reconstruction in his first book, We Meant Well: How I Helped Lose the Battle for the Hearts and Minds of the Iraqi People. A TomDispatch regular, he writes about current events at his blog, We Meant Well. His new book, Ghosts of Tom Joad: A Story of the #99Percent, has just been published.
Follow TomDispatch on Twitter and join us on Facebook and Tumblr. Check out the newest Dispatch Book, Ann Jones's They Were Soldiers: How the Wounded Return From America's Wars -- The Untold Story.